Falun Dafa or Falun Gong is a way of living that is based on Truth, Compassion and Tolerance (Forbearance). It is similar to Tai Chi or Qui Gong and other spiritual, meditative exercises that help the body and the soul.
It is an old practice that dates back centuries in China, and was rediscovered in 1992. Today there are over 100,000,000 (one hundred million) Falun Gong practitioners around the world, who benefit from the exercises and meditation in countless ways.
However, in China, Falun Gong practitioners are persecuted, imprisoned, tortured, raped, institutionalized, mutilated, and killed. If you know about it, you already know the horror stories. If this is the first time you hear about it, we're not surprised. Few live to tell about it. Those who do, and those who dare to report about it tell stories too grotesque to believe. But they are real. In fact, on March 5th, news broke that the President of China, Jiang Zemin ordered to "kill (Falun Dafa practitioners) without mercy."
The Canadian Government was the first to respond to the human rights crisis in China. In these pages, you will learn about Canadians who were released through a tremendous effort of caring people who would not give up hope. But there are countless more detained in China, and every Falun Gong practitioner, as well as every one of us, should do everything we can to stop this insanity. Please take the time to know more about this. Remember, we are one human family, and what affects one, affects us all.
---
Petition Letter for President George Bush
---
Sufferings of Human Rights Abuse of the Relatives of Canadian Falun Gong Practitioners in China
---
---
Updates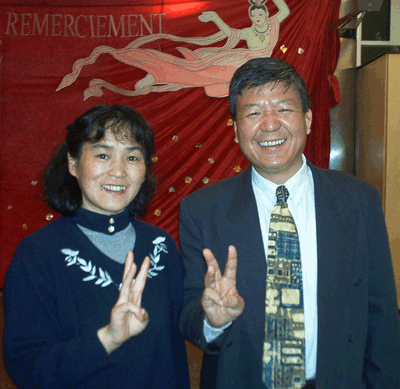 Jinyu Li & Shenli Lin do the WOW Sign (Wish Only Well)
at a thank you party for freedom held at Concordia University in Montreal, on April 7, 2002
---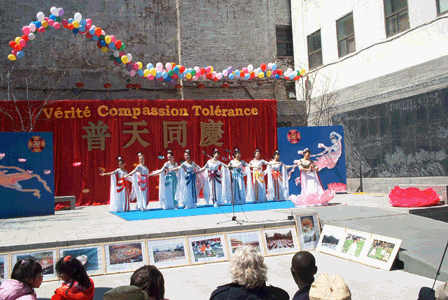 10th Anniversary Festival in Chinatown Park, Montreal. May 11, 2002
Statement by Carmen Colombo at Festival
---
WOW Zone Invited to A Special Thank You Luncheon Event at Parliament Hill, Ottawa, Canada
Letter from Ying Zhu to Jean Chrétien, Prime Minister of Canada
Letter from Professor Lamontagne to Ambassador Ping Mei
Statements by Scott Reid and Irwin Cotler, Members of Parliament
Petition To The House Of Commons In Parliament Assembled
Support Human Rights in China: Open Letter to Prime Minister of Canada Jean Chretien
Information about Falun Gong / Falun Dafa: