SIAMO

Carmen Colombo, wowzone.com and Laura Casella, Host of "SIAMO"
Friday September 21, 2007
I had the great pleasure of being interviewed by Laura Casella of SIAMO, an Italian Community Program in Montreal, Quebec, Canada. We spoke a little about WOW, where we came from and where we're going.
Watch us on Sunday September 30, 2007 at 12:30 PM on CJNT Global Montreal Channel 14 on Videotron Cable. Repeats are Wednesday October 3 at 7:00 PM and Thursday October 4 at 11:30 AM.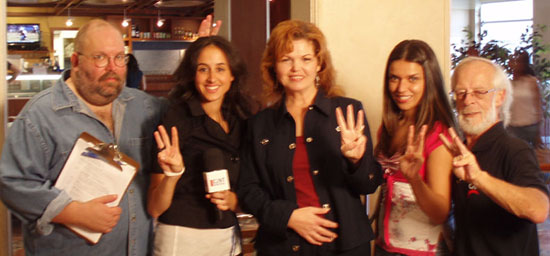 SIAMO CREW - From Left:
Claude Grégoire, Director, Laura Casella, Host/Researcher, Carmen Colombo, www.wowzone.com, Nancy Alves, Technical Assistant, Claude Desjardins, Cameraman.
---
SIAMO
A program that shows the strength of Montreal's Italian community. Tune in every week to meet the most dedicated and successful Italians who are out there making a difference in the community.
• Hosted by Sonia Benedetto and Laura Casella
• Sunday 12:30 PM
• Presented in Italian & English